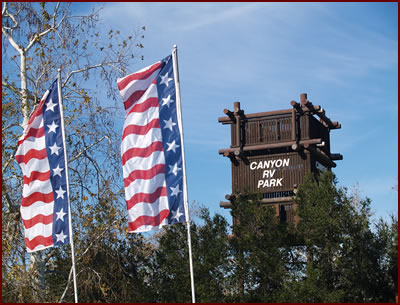 Canyon RV Park
24001 Santa Ana Canyon Road
Anaheim, CA 92808
Phone 714-637-0210
714-637-9317 fax


140 RV sites are equipped with the following: Full hook ups for: Water Sewer Electric with 50-amp. Accommodate slide-outs on both sides of your RV Picnic table Fire ring We also have sites that can accommodate 45' RVs. Other Amenities swimming pool playground meeting room 5 bathhouses with hot showers laundry room convenience store Amphitheater Santa Ana River Bike Trail We also sell fire wood and propane.
$1.00 per day per pet. Pets are welcome! We have a limit of two pets per site. No pittbulls or rottweilers or mixes of these breeds. Pets must be on a leash at all times and may not be left outside overnight. Please be mindful that we are next to a wilderness preserve area which is home to local coyotes. Rates are based on an occupancy of one RV, two guests and one tow vehicle. Additional Guests: $2.00 per day per guest. Maximum of 8 guests per site. $10.00 visitor rate per day.

Canyon RV Campout

Sat, May 12th Agenda

9:00. a.m: Potluck Breakfast

11:00 a.m. Washers

1:00 p.m: Happy Hour. Have a Chicken Wing recipe you think is a prize winner? Don't be shy, enter it in our Chicken Wing contest at Happy Hour. There's a prize for the best Wings!

6:00 p.m: Potluck Dinner. Theme: Mothers Day
Honor that special lady by bringing her favorite dish to share with all your friends.

Reminder: Al and Teri have fresh coffee waiting for you outside their rig Friday mornings at 6:00 a.m.