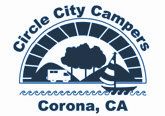 Circle City Campers was established in 1971 as a private RV family camping club which now has members in the Southern California - greater Inland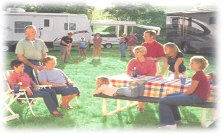 Empire regional area, including Los Angeles, Orange, Riverside, San Bernardino and San Diego county RV'ers.
We are a family RV camping club with a small group of both young and old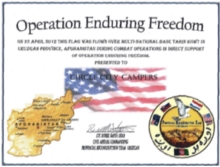 (humm... not so very old!) couples and families who enjoy outdoor local camping trips where we can pack up our RV's and hang out around the campfire, fish, catch up on some rest and share recipes.
The clubs center point for travel reference is the 91fwy @ the 15fwy (Corona, California), setting a one-way 110-120 mile limit. Although its not carved in stone, it serves as a distance guideline for the RV parks and campgrounds where we like to camp. The campgrounds we attend have full hookups which includes a special rate discount.
Most of the time we have an informal club potluck type breakfast and dinner on Saturday with everyone kicking in a recipe. We're not really a dry camping club. However, many in our club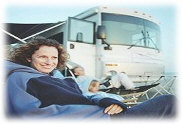 get together on the off weekends and do other types of camping activities as well.
Our campouts run from Barstow to San Diego, and from Ventura to Palm Springs. Our members come from all over the Southern California area. It's a family atmosphere. We average around 20-25 rigs in attendance at each campout as the members schedule permit. Some come in on Thursday but most of us arrive throughout the day on Friday and are gone by mid-Sunday afternoon.
The club member make-up is families including kids, middle age couples with their children off to play (college?),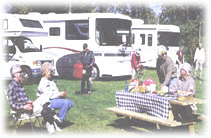 and retired folks enjoying the mix that the club brings along with their grandkids and great-grandkids. Everyone one is friendly and enjoys a good campfire story. Most of the rigs are 5th wheelers, pull trailers, and motorhomes. We discourage Class B, pop-up trailers or tents in general because the RV parks that we go to normally do not allow them.
Also keep in mind most RV parks we attend have a "pride of ownership" clause in their contract, so if your rig is pretty beat up you may run into some restrictions. Dogs: Just a quick reminder most RV parks have some breed restrictions in place. So keep this in mind.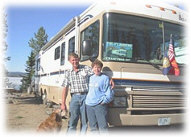 Our current by-laws require you to attend one campout, meet our members, introduce yourself, and then our club officers and you decide if we are a good match. If you want us and we want you, then you will need to complete a membership application which has your name, address, phone and some rig information for our files.
We normally do not allow non-members to attend more than one campout without joining our club since the RV parks hold us accountable for your reservation, conduct, and you know the rest...
We also know it is very difficult to attend an outing with a bunch of strangers, so we will do our best to certainly make you feel at home. When you arrive at a campout on Friday there are always members on the lookout for you.
Take a moment, look over our Schedule of Events for the next family campout...